This reader question made me realize that finding something on eBay is a matter of timing.
Back in the late 1980′s, I believe, I bought a box of 4 bell shaped Christmas ornaments called (or from) the Victoria Collection. They were red, green, blue, and gold. Sadly, the gold coloured bell got broke, and I was wondering if Rauch Industries still makes these ornaments (BTW, they sound almost like bells if you tap your fingernail on them). I will be grateful if I can buy the same set of these ornaments.
So it means that you may have to save your search and set up an email notification so that when an item is listed that matches the keywords that you saved, you will receive a notice via email.
So here's a step by step on how to do that.
Step 1
Find the search box at the top of your eBay page.  Look for the blue lettering "advanced" and click on it.

Step 2
You will see a page with a lot of options.  You will use only the ones shown in this screen shot.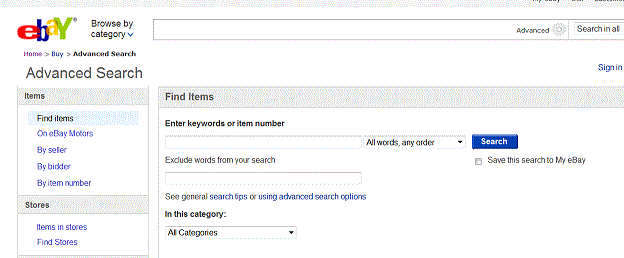 Step 3

Enter your keywords into the keyword box commas separating each word or phrase.  Make sure that the box to "save this search" is checked.
Step 4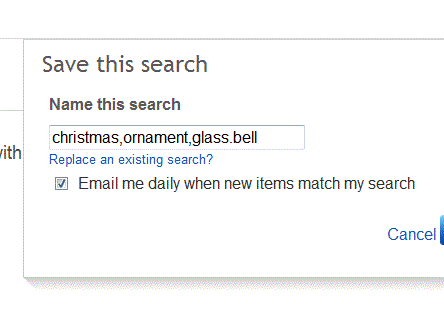 When you click on the search button, this popup box will appear.  Make sure that the box about email notification is checked.  Your search result will show next and you'll find your saved search listed on your my ebay page.  Whenever an item is listed matching that search,you'll get an email from eBay and you can go to your my eBay page to access the most recent results.