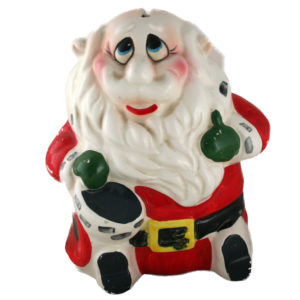 I recently acquired this unusual Santa bank that is marked in black ink "Kreiss".  As I did my research on this brand I discovered that Kriess made a series of Santas as a part of their "Psycho" series.  These depict Santas that are inebriated, too fat to fit down a chimney and are characterized by unusual facial expressions. I found a couple of sourcebooks online that are listed as links below.
According to the Kreiss website, it started in 1939 when Murray Kreiss  left a successful career with a national silver company to start his own importing business. When founder Murray Kreiss started importing novelties from Japan in the 1940s, he was one of the first U.S. businessmen to conduct business in that war-torn country. Tragically, he died at a relatively young age, leaving his son, Norman, then 23, and Norman's brother, Howard, to take over the growing business. The brothers worked well together, and their business continued to thrive and expand. However, tragedy struck again when Howard was killed in a plane crash over Japan in 1958. Left alone to run the company, Norman persevered through sheer determination and led the importing business in new directions.  The novelty imports continued through the 1960s and 70s.  At the same time, Norman Kreiss and his wife imported quality home furnishings from Italy and Asia to outfit their own home. When friends and family raved about their exquisite décor, the couple decided to expand the company's import base to Italy, Spain, Japan, Hong Kong, China and Thailand, as well as other exotic locales. Today the company deals primarily in home furnishings.
Kreiss novelties that appear to be in demand include poodle dogs, oriental figurines and the unique "Psycho" figurines of the 1960s and 70s. Psycho Ceramics were zany novelty ceramics  manufactured in Japan between the 1960s and 1970s. They are what  one might call lovably ugly.  Kreiss also made Crazy Creatures, Elegant Heirs, Beatniks, Nudeniks and a variety of weirdo collectible figures, mugs, banks and ashtrays.
Sources:
Save
Save