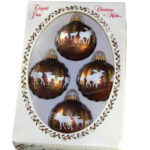 I really can't believe that I've not done a post before about Christmas by Krebs glass company. They are one of the few manufacturers that pride themselves on producing their ornaments in the USA. This is a quote from one of their earlier boxes:
In the middle ages, Venetian traders brought the 4000 year old art of mouth blowing delicate art glass to the northern village of Lauscha, Germany. Master artisans created beautiful glass ornaments to adorn the villager's homes and Christmas trees. The Krebs family has kept the fine art of creating original glass ornaments alive for 55 years in Germany and for 30 years in the USA. A family owned company for four generations, the Krebs family and companies have established themselves as the leader in the glass ornament industry. Known for their Unique and Original designs, the Krebs companies have set the standards for high quality and service. Because of their working knowledge of international markets, trends and sourcing,Krebs has grown to be a total glass company-offering glass treasures from around the world and creating Christmas memories for generations to come.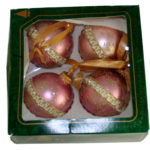 Most of the Krebs ornaments that I've found have been in boxes of 4 ornaments and generally match the color trends and styles of the era. As it turns out this is one of their aims in producing their line. This is from their website:
For forty years Roswell, New Mexico has been the home of Christmas by Krebs. Our state-of-the-art equipment and innovative personnel produce some of the prettiest and highest quality glass ornaments in the marketplace. Our USA facility is the mainstay of Christmas by Krebs. The vast majority of the glass offered in our product line is made in the U.S.A. We believe that keeping our promises is a personal obligation to the customer.

Christmas by Krebs is a family oriented company and for four generations the Krebs family has been at the helm to help guide us. Christmas by Krebs has always been known in the Christmas industry as being the leader in color trends and fashion designs. Christmas by Krebs studies the market places around the world, including the textile market, home furnishing market and tabletop market. We bring our customers' glass ornaments to match what is happening in the Home Industry. Our close ties with family members operating factories in Germany and our global knowledge and awareness has allowed Christmas by Krebs to be on the cutting edge of what is on the horizon in upcoming color trends and shapes.