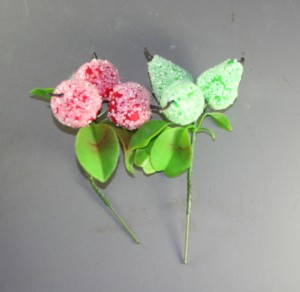 Occasionally I list vintage floral picks because I love to use them in holiday displays of all kinds. Here's a list of ideas: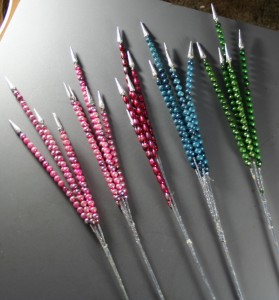 Embellish a wreath. Whether you use a green wreath or an artificial wreath, a vintage look is created when you wire in vintage picks.
Create a Centerpiece. Whether you prefer a large centerpiece or several smaller ones on your holiday table, tucking vintage floral picks in with the greenery, flowers and berries instantly makes a vintage and nostalgic vibe.
Decorate a Tree. I don't know if they did it way back when, but today many decorators create a very full look on their trees by laying picks along the branches with the pick toward the center of the tree. Depending on the size of your tree, you may want to use your larger picks on the larger branches and smaller ones on the smaller branches near the top.
Embellish a Garland. Add vintage floral picks along the length of a garland wherever you would use a garland, along a mantle or across an entryway.
Add to your putz or village display. Some picks when mounted in a base to make them stand upright, make wonderful bushes or trees. This article is inspirational.
Decorate your dolls. Make a non-holiday doll festively Christmas by tucking picks into hatbands,into hands or in a basket held by the doll.