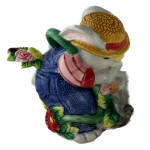 I first encountered Fitz and Floyd ceramic pieces in the 1980s in a gift store in West Linn, Oregon. The intricate designs and quality porcelain, along with a hefty price tag, were distinctive and I had to have at least one piece. Fitz and Floyd collectibles are known for their intricate, imaginative designs that vary from humorous to elegant pieces.
In researching the company, I found surprisingly sparse information. But most sites agree on the following information. Fitz and Floyd was established in Dallas in 1960, by founders Pat Fitzpatrick and Bob Floyd. It started off as an import company, but soon progressed to the design and sale of ceramic giftware and tabletop products and accessories. By the start of the 1970s, the company had several popular hand-painted ceramic gift lines in production. Although Fitz and Floyd items have been popular with collectors since they first became available, special editions and limited production collector's items were first produced in 1990. This includes teapots, ornaments, and figurines made of resin, glass, and ceramics. Collectibles also include boxes, decorative plates, eggs, water globes, houses, cookie jars, ceramic giftware, dinnerware, tableware, and decorative accessories. In the 1970s, Fitz and Floyd was the first company to create mix-and-match dinnerware with varied, but complementary, designs or colors in one pattern line.
The most well-documented and well-liked lines include the Charming Tails figurines, themed teapots, and cookie jars.
The Charming Tails figurines depict woodland creatures in human situations. They were initially made by Silvestri in 1992, with the first set containing 12 figurines. In 1996 the company went bankrupt and was bought by Fitz and Floyd in 1997. Due to the brand's popularity, the name was kept. Artist Dean Griff has been responsible for the figurines' design from their birth and in the first 15 years, 1,500 designs were created and released. In 2009, Enesco purchased the brand and related assets. Although figurines in this series were created in limited numbers, not all items were numbered. In 1998, Fitz and Floyd added four felt tabs to the bottom of each figurine for better grip, and issued each with a name card bearing the piece's name and number. On some pieces the year of production is indicated by a picture. For example, pieces created in 1998 bear a paw, and those from 1996 show an acorn.
Fitz and Floyd teapots come in a range of designs, including buildings, birds, musicians, and animals. Some honor famous figures, while others are whimsical, humorous designs. The teapots in particular are intricate and fragile, and should be removed from packaging carefully to avoid damage.
Fitz and Floyd Cookie Jars are well-made, intricate, with brightly-colored designs aimed at the young and the young-at-heart. Most are sold as part of a themed series, sometimes as part of different collections. Popular designs include animals and Christmas themes.
Marks on Fitz and Floyd pieces include:
Fitz and Floyd, Inc. with the year of production indicated in Roman numerals. The mark was embossed or printed under the glaze, and used in the late 1970s
The copyright symbol followed by FF, embossed or printed under the glaze, also from the late 1970s.
Sources:
GourmetSleuth on Fitz & Floyd Porcelain Marks