My series on the "Journey to Easter…Symbols and Traditions" ends with this post.
On Easter Sunday Christians celebrate the resurrection of Jesus Christ. This is the most important teaching of Christianity. According to scripture, Jesus was raised from the dead on the third day after his crucifixion. This event astonished his followers. It convinced them that through the life,death and resurrection of Jesus Christ, God was offering humanity a new means of salvation. Many Christians attend church services on Easter Sunday morning. Some service are scheduled near dawn, Sunrise Service. Easter services are joyous with special musical offerings and bell ringing. The word "alleluia" is reintroduced into worship. Baptisms, or the renewal of the congregation's baptismal vows, may also occur during the Easter service. Some churches also include the custom of "flowering of the cross".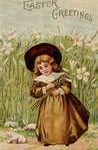 Popular food customs for easter include a rich feast with roast lamb or ham, special breads and eggs. Children often enjoy a Easter egg hunt or find a filled Easter basket. New clothes, representing renewal and new beginnings, are worn on Easter and the Easter Hat is a dearly held tradition amongst women.
The Easter Parade consists of ordinary people dressed in their holiday finery, strooling to and from church or along the main streets of town. This is an informal fashion show.
Symbols for Easter include the cross (empty), the lily, the lamb and the paschal candle. Other symbols used are the butterfly, the peacock, the phoenix and the number 8 which stand for the Easter themes of resurrection and eternal life.
Fire,sunrise and light are incorporated into Easter services and ringing bells depict Easter joy. One also sees depictions of the empty tomb.